There's nothing like a long ride whether you're taking in the city sights or hitting the trails. But as every rider knows, staying hydrated is an essential part of keeping up your momentum and maintaining your health. There are plenty of water bottles available for you to choose from, and we're sure some of them are good choices. But why settle for good when you can get something truly great? Enter the Halex water bottle. We're not joking when we say this bottle is the ultimate sidekick and offers everything you need (and more) on your rides. Here's everything you need to know about the best bike water bottle on the market.
No Ordinary Water Bottle
Thanks to its Omniflow technology, the Halex bottle is one that stands above the rest. While you may be tempted to tilt it back to drink, you don't have to. With just a simple squeeze of the bottle, you can quench your thirst without taking your eyes off the road. Pretty nifty.
But hey, if you can't break the habit, no problem the Halex can easily adjust to your preference. Just switch to traditional mode, tip the bottle back, and enjoy your refreshingly cool beverage.
3-Mode Selector
Switching between modes on this water bottle is totally seamless. Its three-mode selector lets you choose whether you want to drink the traditional way, vertically, or to lock it when you're ready to put it away.
Ultra-Easy Cleaning
Due to its high-quality materials, the Halex Bottle is not only safe to use (BPA and phthalate free), but it also can be used in the top rack of your dishwasher.
Comfortable Grip
A bottle with a grip that actually feels good. That's because it's made with ergonomic, soft plastic that is made to be squeezed whenever you need a swig. For extra security, the Halex also has a carry loop attached to it.
Size Options
Because who doesn't like options? To adapt to your unique needs, the Halex water bottle comes in three different sizes. Here's a breakdown of each of them:
Bike (22 oz): This handy, non-insulated bottle will fit comfortably inside your bike cage and be ready to support you on any long ride.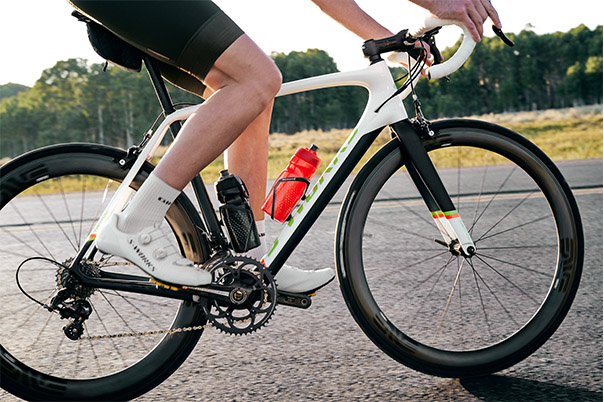 Insulated (24 oz): Standing a little taller than the Bike, the Halex Insulated makes sure that the only thing working up a sweat is you. It'll keep your drink dry making it easier to grab and chilled. It also fits in a bike cage.

Sport (32 oz): If you need more water while you're on the move, this is the bottle option for you. Due to its robust size, it does not fit in a standard bike cage, but can be stored in a bag.
The smaller sizes are probably the best water bottles for mountain biking or long rides where you don't want to bring bulky equipment. Ultimately, the choice is up to you and whatever best fits your riding needs and preferences. But one thing's for sure when it comes to the Halex bike bottle, you can't go wrong.