Ever wondered why on earth we make so many different shaker bottles? You might think that one shaker bottle the BlenderBottle Classic, for example is all anyone needs. But think again. Because while the Classic is indeed an iconic and dare we say incredible bottle, there are several other protein shakers in our product line, which serve a variety of different wants and needs. The best shaker for you may surprise you!
Here's a look at some of the best protein shaker bottles and shaker cups for different activities and different types of people:
Best Shaker Bottle With Storage
The BlenderBottle ProStak can't be beat when it comes to packing protein and other supplements to go. The 22-oz. bottle comes with two interlocking, lidded jars that attach and detach to carry protein powders, supplements, and snacks. There's even a pill tray that fits neatly inside the lid of either jar, providing the perfect spot for vitamins. If you want a protein shaker bottle with integrated storage to pack pre- and post-workout fuel, or snacks for a long day at work or school, this is certainly the best bet.
Best Leak-Proof Shaker Bottle
The BlenderBottle Strada shaker features innovation so advanced, using it and keeping it leak free is practically effortless. When you're ready to drink, you'll enjoy the one-handed convenience of the push-button-open lid. Done drinking? Snap the cap shut to close the bottle up tight, then slide the lock into place. Now that's what we call a leak-proof seal!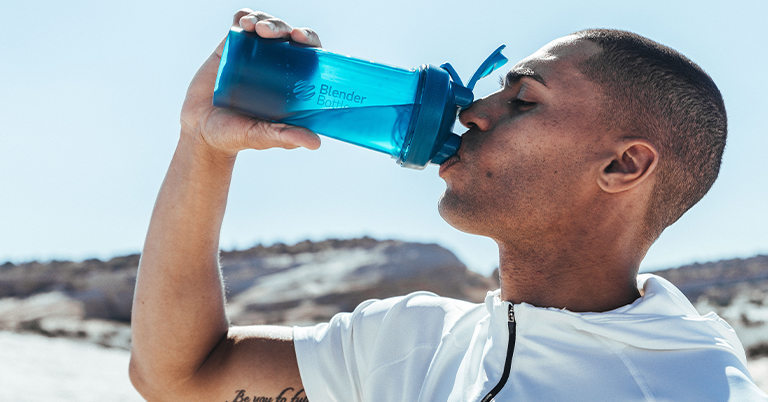 Best Shaker Bottle For A Tight Budget
If you're looking for an affordable option that still offers plenty of bells and whistles, the BlenderBottle Classic shaker is the best shaker bottle for you. At just $10.99 for the 28-oz. bottle, you'll enjoy all the benefits of our recently upgraded Classic: a rounded base for better mixing, our pro-level SpoutGuard to keep germs off the drinking surface, an updated design, and our patented mixing system featuring the BlenderBall wire whisk.
Best Shaker Bottle For Elite Athletes and Odor-Resistance
BlenderBottle ProSeries bottles build off of the tried-and-true design of the original BlenderBottle Classic shaker, adding features and refinements to meet the needs of elite athletes, endurance junkies, and heavy lifters alike. These include durable, stain- and odor-resistant Eastman Tritan plastic, a rounded base for mixing every last bit of protein powder, and our protective SpoutGuard for keeping dirty gym fingers at bay.
Best Shaker Bottle For A Serious Thirst
The biggest of the ProSeries bottles, the BlenderBottle Pro32 is a rough-and-ready shaker designed for a serious thirst. In addition to the aforementioned ProSeries features, we beefed-up this bottle's capacity to a respectable (yet not-too-bulky) 32 ounces. 'Nuff said.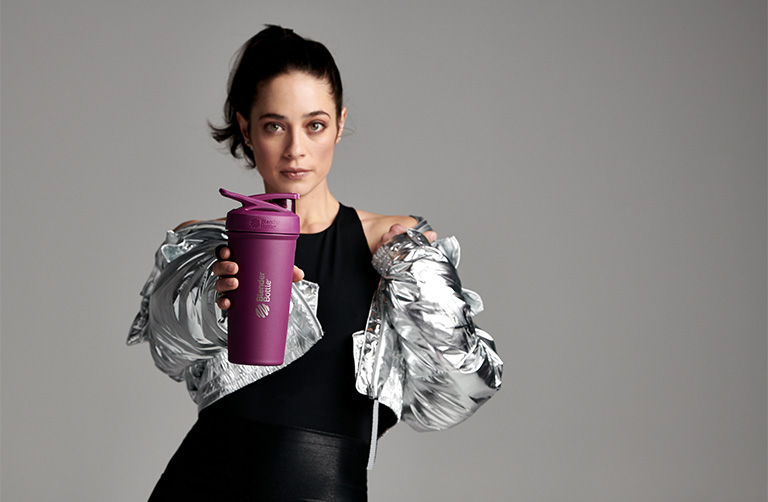 Best Insulated Stainless Steel Shaker Bottle For Keeping Drinks Cold
Looking for a bottle that ensures your protein drink will stay fresh and cold? Check out the all-star BlenderBottle Strada Stainless Steel shaker. Our keep-it-chill double-wall insulated bottle delivers plenty of other benefits, too like a handy carry loop, rounded base, push-button-open convenience, and a clever locking lid.
Best Shaker Bottle That Doubles As A Water Bottle
The BlenderBottle SportMixer is a perfect hydration companion and a premium mixer for your next protein shake. The firm, feel-good textured grip helps you hold on tight to the bottle, even when sweating through your toughest workouts. The stylish twist cap provides a secure, leak-proof seal, ensuring that when your bottle is closed, it's closed completely. And when you're ready for a post-workout shake, just pop in the BlenderBall wire whisk along with your ingredients and mix away.
Best Shaker Bottle For Fashion-Conscious Fitness
Are you the type to match your shaker to your workout ensemble? Want the best shaker cup on the market delivered to your door in stylish, special edition colors each and every month? You, my friend, are a perfect candidate for the BlenderBottle Color of the Month Club. Pssst…club members also get 15 percent off all additional website purchases, access to exclusive content, and more. Join now, why don't ya?
Best Shaker Bottle For Added Motivation
BlenderBottle Classic Special Edition Series shakers add fresh oomph to your gym routine. Get legit motivation to hit your max heart rate, or make your competition crack a smile. And never, ever take yourself too seriously. If you're looking for something to complement your individuality and spark your fitness fire, a Special Edition shaker is the best shaker bottle for you.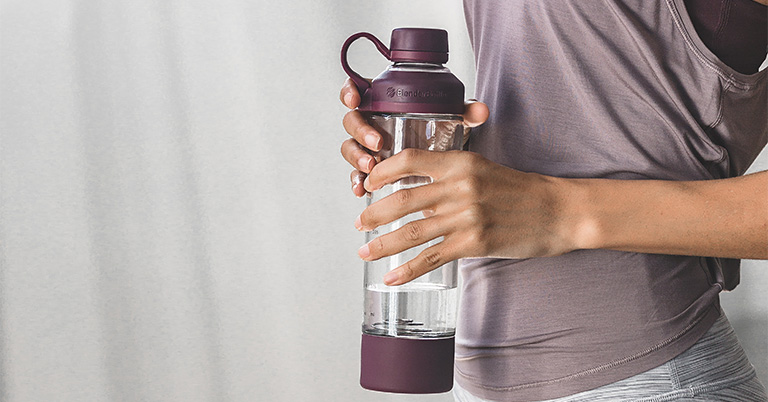 Best Glass Shaker Bottle
We created the BlenderBottle Mantra shaker for people who prefer drinking from glass, whether sipping water during yoga practice or mixing a recovery shake after a round of heavy reps. Our unique ClearSip Spout creates a pristine drinking experience, while the second, wider glass opening easily accommodates supplement scoops or ice. And with a protective silicone boot, you get peace of mind plus a fresh tasting beverage every time.
Best Shaker Bottle For Marvel Fans
Superheroes need super shakers, and we have an array of officially-licensed Marvel designs for the MCU fans out there. Consider the vacuum-insulated BlenderBottle Radian Marvel Stainless Steel shaker, with a twist-on cap and sleek, center-mounted spout. Or you might prefer the pro-level, stain- and odor-resistant plastic BlenderBottle Pro28 shaker. Either way, your beloved Marvel icons help you power up. Get Captain America, Iron Man, Spider-Man, and the rest of your favorite heroes.
Best Shaker Bottle For DC Fans
Attention, DC Comics fans! Fuel your inner hero with an officially-licensed BlenderBottle DC Comics shaker, featuring your favorite superhero graphics. Our extensive lineup of DC bottles includes the Strada, ProSeries, Radian, and Classic shakers all with the superhero icons you admire to add a powerful punch. Looking for the iconic Batman? Get an insulated stainless steel Batman shaker.
Best Shaker Bottle For Star Wars Fans
Ready to rep the Rebel Alliance? Swear your allegiance to the Empire? Meet our officially-licensed BlenderBottle Star Wars shakers. Designed to celebrate all things Star Wars from classic icons to retro looks to The Mandalorian protein shakers these bottles are available in our Strada Insulated Stainless Steel, Radian Insulated Stainless Steel, ProSeries, and Classic bottles.
Best Shaker Bottle For Harry Potter Fans
Whether you fancy yourself a wizard, a witch, or a muggle, our officially-licensed BlenderBottle Harry Potter shakers will keep you fueled in sleek fandom style. Get Gryffindor shakers and other house designs. Looking to join Dumbledores Army? We have an insulated shaker cup for that. Choose from numerous Harry Potter designs on our Strada Insulated Stainless Steel, ProSeries, and Radian Insulated Stainless Steel models all featuring our patented mixing system, which uses the BlenderBall wire whisk found only in BlenderBottle brand shakers to mix protein and nutrition shakes with ease, no magic required.
Did we miss anyone? You'll find even more shaker bottle models at BlenderBottle.com including the right one for you!
This page offers health, fitness and/or nutritional information and is designed for educational purposes only. You should not rely on this information as a substitute for, nor does it replace professional medical advice, diagnosis, or treatment. If you have any concerns or questions about your health, you should always consult with a physician or other healthcare professional. Do not disregard, avoid or delay obtaining medical or health-related advice from your healthcare professional because of something you may have seen or read on this page. The use of any information provided on this video is solely at your own risk