It's no secret: some protein shakes taste great, while other protein shakes taste gross. What gives? Truth is, there are a variety of factors that go into making a great-tasting protein shake. And since we're in the protein shaker bottle business, we feel responsible for helping you learn how to mix better-tasting protein shakes, every time.
Here are our top tips for making protein shakes taste better:
Mix it right.
When it comes to protein shakes, taste and texture go hand in hand. Lumpy protein shakes are no fun, but they're a common problem until you switch to a BlenderBottle protein shaker, that is. Our patented mixing system, featuring the BlenderBall wire whisk, was created to solve the problem of lumpy protein shakes. The BlenderBall whisk found only in BlenderBottle brand shakers whips around inside the bottle as you mix, mixing stubborn protein powder and other ingredients into smooth, delicious shakes.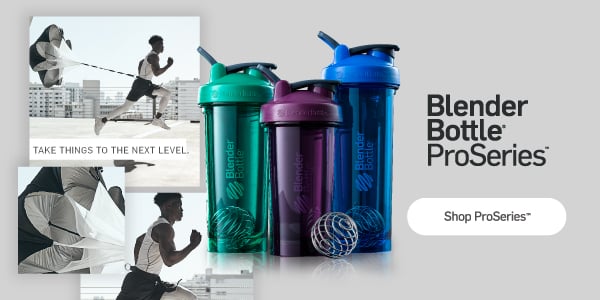 Choose high-quality protein.
Another important factor in making better-tasting protein shakes is to select high-quality protein powder. Typically, low-cost protein powders are also low quality, and often have unappealing texture and taste. It's worth investing in a high-quality protein powder one without lots of unrecognizable artificial fillers and flavors that make your shake taste weird, artificial, or downright gross. Pro tip: When shopping for a new protein powder, request a sample or buy the smallest possible package first. That way you won't be stuck with a giant tub if you don't like the taste!
Sweeten it yourself.
One option for maintaining control over the flavor of your protein shake is to purchase unflavored protein powder, and then flavor and sweeten the shake yourself. Use a small amount of natural sweetener such as honey, agave, or pure maple syrup to greatly improve the taste of your shake. You can also rely on fruit such as mashed bananas, mashed berries, or pure fruit juice to give your shake a naturally sweet flavor upgrade. Check out our BlenderBottle recipes for some sweet ideas.
Add flavor enhancers.
There are several other ways to enhance the taste of your protein shake, depending on the flavors you prefer. A small amount of vanilla, almond, or mint extract can boost the flavor in a big way. The same goes for cinnamon or cocoa powder. If you're a coffee drinker, you might enjoy adding a shot of cooled espresso to your protein drink. And nut butters like peanut and almond add natural sweetness, include additional protein, and help thicken the texture of protein shakes.
Consider the base.
Do you typically make protein shakes with water? Instead, try milk or a milk substitute (almond, coconut, or soy milk). This will add a comforting flavor and a creamier texture to your shake. Yogurt, when paired with water or especially with any kind of milk, brings additional flavor and creaminess. You can also rely on orange juice or other strong-flavored juice (like pomegranate or cherry) to mask the flavor of a bad-tasting protein powder.
Keep it chill.
Protein shakes tend to taste better when cold. In fact, some protein powders can taste *off* if they sit too long in a room temperature drink. You can add ice to any protein shake to keep it cool, or you can keep your shake colder, longer with an insulated bottle like the BlenderBottle Strada shaker or BlenderBottle Radian shaker. Both shaker bottles are made of vacuum-insulated stainless steel, which keeps drinks cold for up to 24 hours. And again, they feature the BlenderBall whisk, so you know you'll get a wonderfully smooth shake.